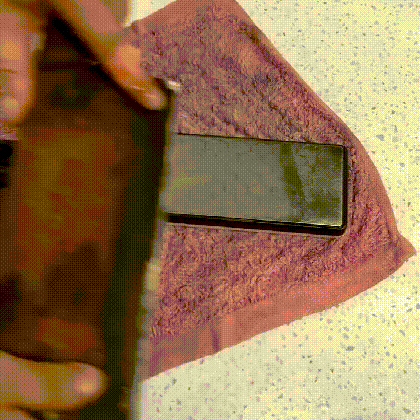 👍【Ensure The Smoothest Cut】: When It Comes To Matters Of The Kitchen, Nothing Is More Frustrating Than A Knife That Doesn't Cut Properly, Even If You Are Priority Chef Or Chefologist. Cooking Should Be An Enjoyable Experience, But When Your Cutlery Doesn't Work, It Turns A Relaxing Activity Into An Annoyance. This Knife Sharpener Is A Great And Affordable Solution For Knives. No Matter What The Tool, Our Diamond Sharp Knife Sharpening Stone Can Solve Your Problem Immediately.
👍【Multipurpose Use】: Diamond stone Knife Sharpener Plate Has 2 Sides(1000 Coarse Grit/400 Fine Grit), And It Has The Tungsten Ceramic Groove, It Can Be Used As Serrated Knife Scissor Sharpener, Kitchen Bavarian Knife Edge Sharpener, Whetstone Knife Sharpening Stone, So This Diamond Sharpening Plate Suitable For Any Item You Want Sharpened And Polished. Using Our Product Can Extend The Life Of The Knife And Save You From The Constant Pain Of Buying A New Knife.
👍【Professional Design Fast Durable】: Monocrystalline Diamonds Are Electroplated Onto A Stainless Steel Base. Up To 5 Times Faster Sharpening Than Oil Stone, Waterstone. And Will Not Wear Out Like Wet Whetstone, It Can Work Longer. Unlike Most Others On The Market, Our New Diamond Knife Sharpener Rod With Anti-slip Handles, easy to operate or Indoor-outdoor Tools. Hold The Sharpener Handle With Your Left Hand And Sharpen Your Knife Easily With Your Right Hand For Safe And Comfortable Use.


👍【Angle Guide】:The Hardest Part Of Sharpening Is Maintaining A Precise Angle On Your Blade. Our Knife Honing Rod Stone Lapping Set Has A Durable Angle Guide, It Helps To Maintain The Correct Angle. Especially Good For Beginners. All You Have To Do Is Slide The Knife Into The Angel Guide And Push And Pull Your Steel Ceramic Knives Slowly, After A Few Minutes, Your Knife Will Be Very Sharpening.
Size: 
diamond sharpening stone for knives: 11*2.1 inch
Angle Guide: 4* 0.9 inch

Usage Guide:
1.Place the sharpener on the platform. 
 2.Rough grinding: suitable for cutting or repairing damaged blades. Use 400# diamond grinding surface to grind the blade back and forth at an angle of 15-30 degrees. (We provide a 30-degree Angle Guide) Generally, coarse grinding is performed once every six months and can be adjusted according to specific conditions. 
 3.Fine grinding: This is a step that must be performed to eliminate the burrs of the knife edge and smooth the blade. Use 1000# diamond grinding surface to grind the blade back and forth at an angle of 15-30 degrees, the strength is smaller than the previous step. Generally fine grinding once a week, can be adjusted according to specific conditions. 
 4.After granite the tool, wipe it with a damp cloth or rinse with water, then clean the surface with a soft brush, To keep the manual diamond sharpening stones kit dry.


Click "Add to Cart" to get your😍